Static Counter!
Visitor Counter to display daily, weekly and monthly visitor count. Count your traffic safely and show your visitors.
optimized and compatible with all browsers. 100% compatible with W3C, HTML, HTML5, XHTML, ... secured and fully compatible with https and ssl.
Yes, Live Traffic Feed is GDPR compliant!
Copy the text to your clipboard (CTRL-C). Then paste the text into your blog or website HTML (Usually into your sidebar). Make sure you paste the text exactly as it appears or your widget may stop working.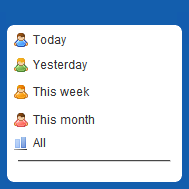 ---