Free Website Traffic Count
Get free static website counter for your website. This tools counter visitor by day/week/month/year and total visitor. Free widget for your page with detailed statistics. Install simply and quickly a live counter.
Live Traffic Feed for root domain (*.example.com):
Copy the text to your clipboard (CTRL-C). Then paste the text into your blog or website HTML (Usually into your sidebar). Make sure you paste the text exactly as it appears or your widget may stop working.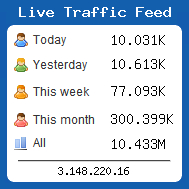 Free Traffic Counter for Various Websites
All websites and webpages on the Internet tend to claim the highest possible traffic they can. The SEO- friendly language and usage of keywords are also done in order to get the highest number of clicks so that more people read the content and the traffic increases. More traffic also means more revenue. The websites need to keep track of the number of people who are checking in to get a clear picture of where they stand. For this, they must take the help of websites which can track such information. Traffic Feed is one such traffic counter which is free of cost and very reliable.
The website is user- friendly and useful if one wants to find out the amount of traffic that a website gets. It has a live traffic feed which notifies the user about incoming traffic and even the nationality. The website is able to detect the IP address, OS, country and web browser that the user has at the time. The company can keep track of its customers 24/7. Hundred of the most recent visitors of the web page or website are available by the live feed tracker system.
Features
The live tracker system is great and helps with giving fast and accurate information about the traffic entering a website. Since the website is free of cost, all the information can be taken without the need of spending any money. The website counter can be used by entering the domain and time zone. It shows traffic from that day, the previous day and even the past month. It even shows the combined traffic count and also offers features which include IP widget, live visitor map, flag counter, etc.
It is good to check the traffic of a website as it can be a good measure of how successful the page is. The website tracker is safe and does not cause any malware or virus. It is important to ensure that before trying to obtain any kind of information through it. It is good for gaining knowledge about the company or work website.
---