Free Website Counter
Get free static website counter for your website. This tools counter visitor by day/week/month/year and total visitor. Free widget for your page with detailed statistics. Install simply and quickly a live counter.
Yes, Live Traffic Feed is GDPR compliant!
Copy the text to your clipboard (CTRL-C). Then paste the text into your blog or website HTML (Usually into your sidebar). Make sure you paste the text exactly as it appears or your widget may stop working.
Try Hit Counter?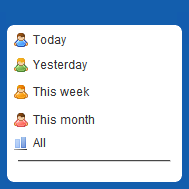 ---